Since the start of 2021, the books that have appealed to me most are ones I haven't read since childhood. In a time that still feels so uncertain, it's been comforting to re-read ones from another time when I didn't have much control over my life, to re-visit stories I loved full of magic, heroism, and mythical beasts.
First, I started with a series I've had on my bookshelf for years: The Lord of the Rings.
I hadn't read the books since 2003. My Dad's beautiful paperbacks from the 60s are in a little box set that I have now. Those iconic covers were created by Barbara Remington, who passed away in early 2020 from breast cancer. I remember seeing them when I was very little and my dad telling me that I'd love those books someday.
The books were funnier than I remembered. The first one had some especially funny moments. (Elrond is surprisingly sassy.) While I know Tolkien was trying to create a mythology for England in a way, the way light skin is associated with goodness and dark skin is associated with evil is disturbing to read. With that said, there are some beautiful turns of phrase in here and there's a reason these stories have endured. The entire focus of the stories is to do what we can, even when it's difficult, and the importance of friendship and kindness.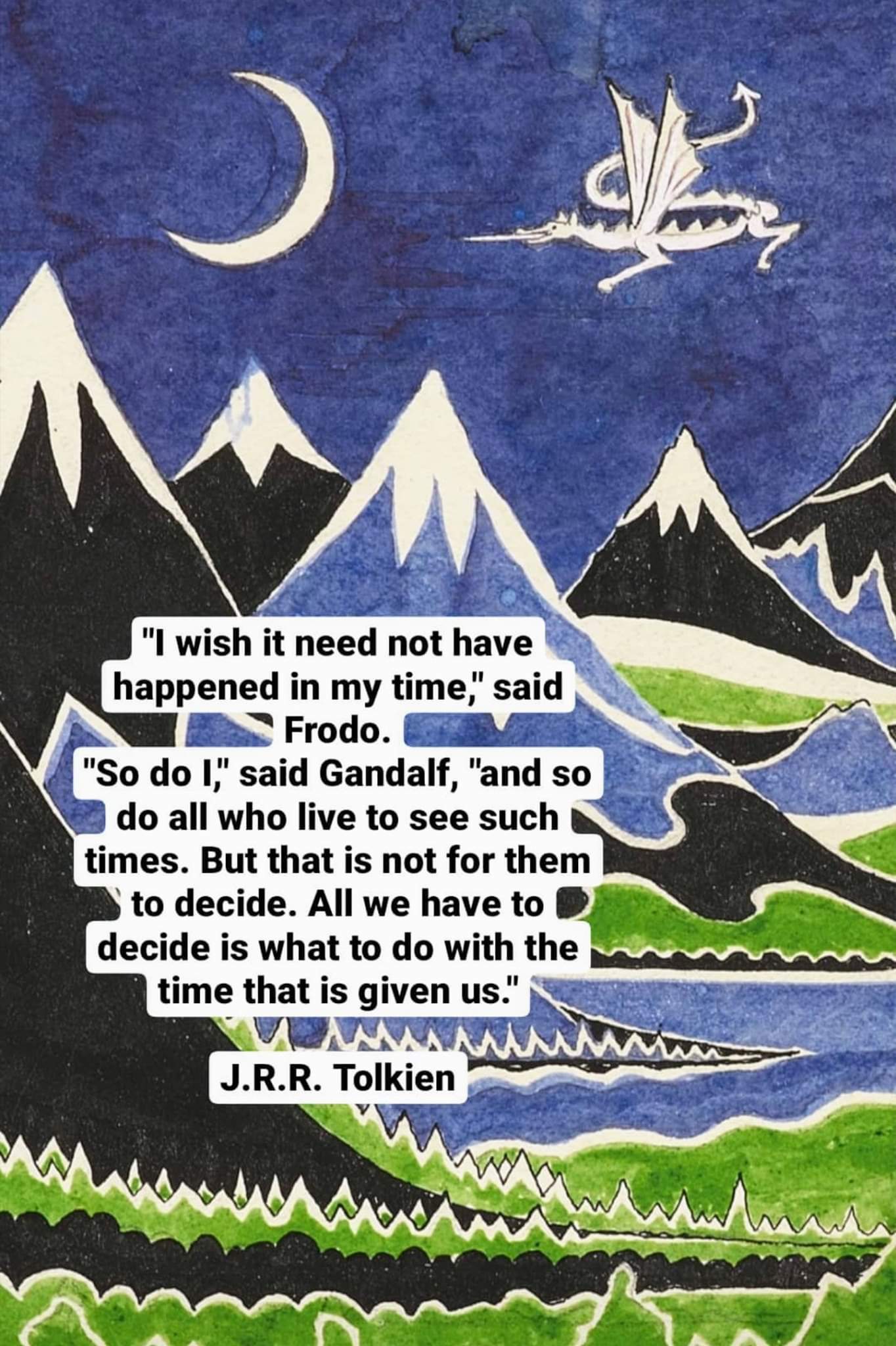 The quote above especially resonated with me in light of the Pandemic: "I wish it need not have happened in my time," said Frodo. "So do I," said Gandalf, "and so do all who live to see such times. But that is not for them to decide. All we have to do is decide what to do with the time that is given us."
Next, a trip to a library bookstore got me interested in another story I haven't read in well over a decade: Song of the Lioness quartet by Tamora Pierce.
It turned out some of my friends were also revisiting those stories. Again, these stories focused on friendship and were funnier than I remembered. (Alanna is hilariously suspicious of people who want to be her friend.) The lead becomes a knight of Tortall after pretending to be a boy throughout her training. While her great future is partially determined by the gods, I liked how she worked hard to become a strong fighter on her own and how her own internal moral compass determined her actions. She didn't bow to the pressure to conform to societal expectations.
That's pretty powerful for a growing girl to read. It was comforting for an adult to read too.
My most recent stop on my nostalgic trip down memory lane was another series: the Harper Hall trilogy of books by Anne McCaffrey. (In order: Dragonsong, Dragonsinger, and Dragondrums.)
Technically, these books are Sci-Fi, but the dragons and fire lizards add a fun fantasy element to these novels. These are chronologically around the time of the first two Pern novels (Dragonflight and Dragonquest), which my mother gave me as a child and which are loosely connected to these stories. I haven't read any of the Pern series in a long time.
The first two books in the Harper Hall trilogy focus on Menolly, a girl who runs away from home after being forbidden to do anything musically related, despite her prodigious talent. She ends up 'impressing' (basically imprinting) "only 9" fire lizards, which are essentially tiny wild dragons. The series continues through her journey to find where she belongs as well as her training at the Harper Hall to become a harper (which is pretty much a minstrel).
It's nice to see Menolly find her way and people who believe in her, even if the bullying she experiences is frustrating to read at times. But it fits in with kids feeling misunderstood and seeing her come through the other side of it is rewarding. Besides, who wouldn't want a dragon friend (or 9)?
So, if you're also feeling in need of comfort, I recommend reaching for books you loved from childhood, whatever those might be. Or take a leaf out of my book and try some of the ones I discussed above!
Feel free to give your own recommendations below. 🙂